Special Price
Rs 9,999
Regular Price
Rs 11,499
Bring more people together with group video calling
Samsung's TV Camera works seamlessly with communication apps like Skype for effortless 1-to-2 group video calling. Being able to talk to two people at once makes keeping in touch simpler and reduces the need for multiple phone calls and messages. No matter how far away your family or friends are you can be together and feel closer thanks to this great marriage of hardware and software. * This function is limited for use between Samsung Smart TVs.
Make video calls in high-quality Full HD
With the Samsung TV Camera, staying in touch face-to-face over long distances is more vivid than ever. Thanks to Full HD capabilities, video calls using services like Skype have greater clarity and brilliance. The camera captures every detail with superior realism, so you feel like your friends and family are actually there with you. You can even watch TV on mute during a call.* * This function does not support for Group Video Call. * The picture quality may vary depending on the capabilities of the other caller's TV.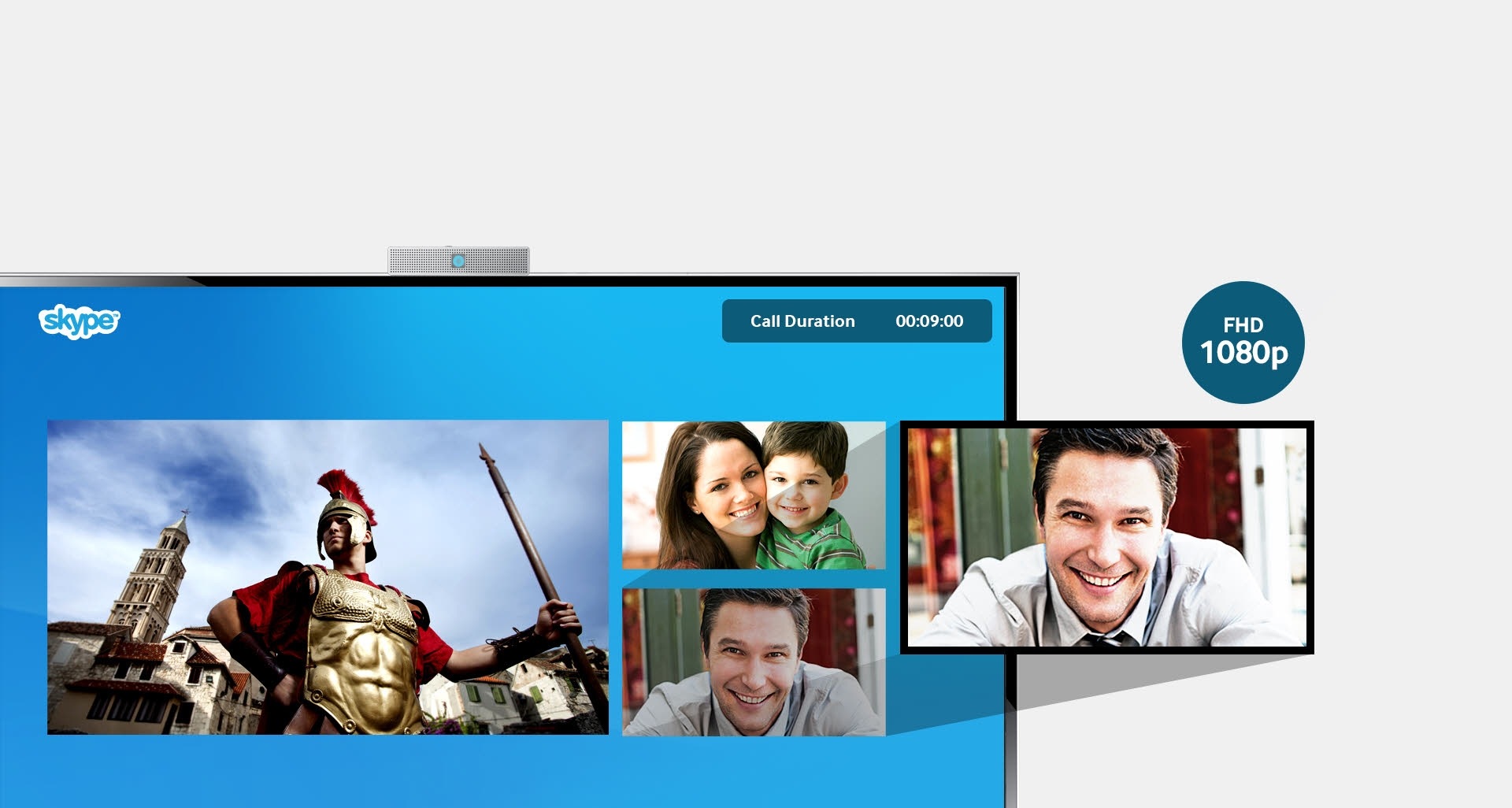 Use gesture control with the latest Smart Interaction
The Samsung TV camera allows you to interact with your Smart TV more intuitively. Now you can use simple finger gestures to control a range of functions like changing the channel and adjusting volume levels. Upgrade your TV and you can enjoy all these easy-to-use smart services. * Gesture Control feature compatible with select J Series Samsung Smart TVs and may vary by region. - USA/Central & South America: JU6700 and higher - Europe: JU7000 and higher - China/Hong Kong: JU6800 and higher - South Korea: JU6900 and higher - Other Regions: JU6600 and higher
Virtual Mirror lets you see yourself on the screen
With Virtual Mirror, you can view a live video feed of your own movement on a split-screen while using apps like Fitness App. That means you can see yourself while you work out and check that you're performing the exercises correctly. Thanks to the Samsung TV Camera, it's never been easier to keep an eye on your personal fitness.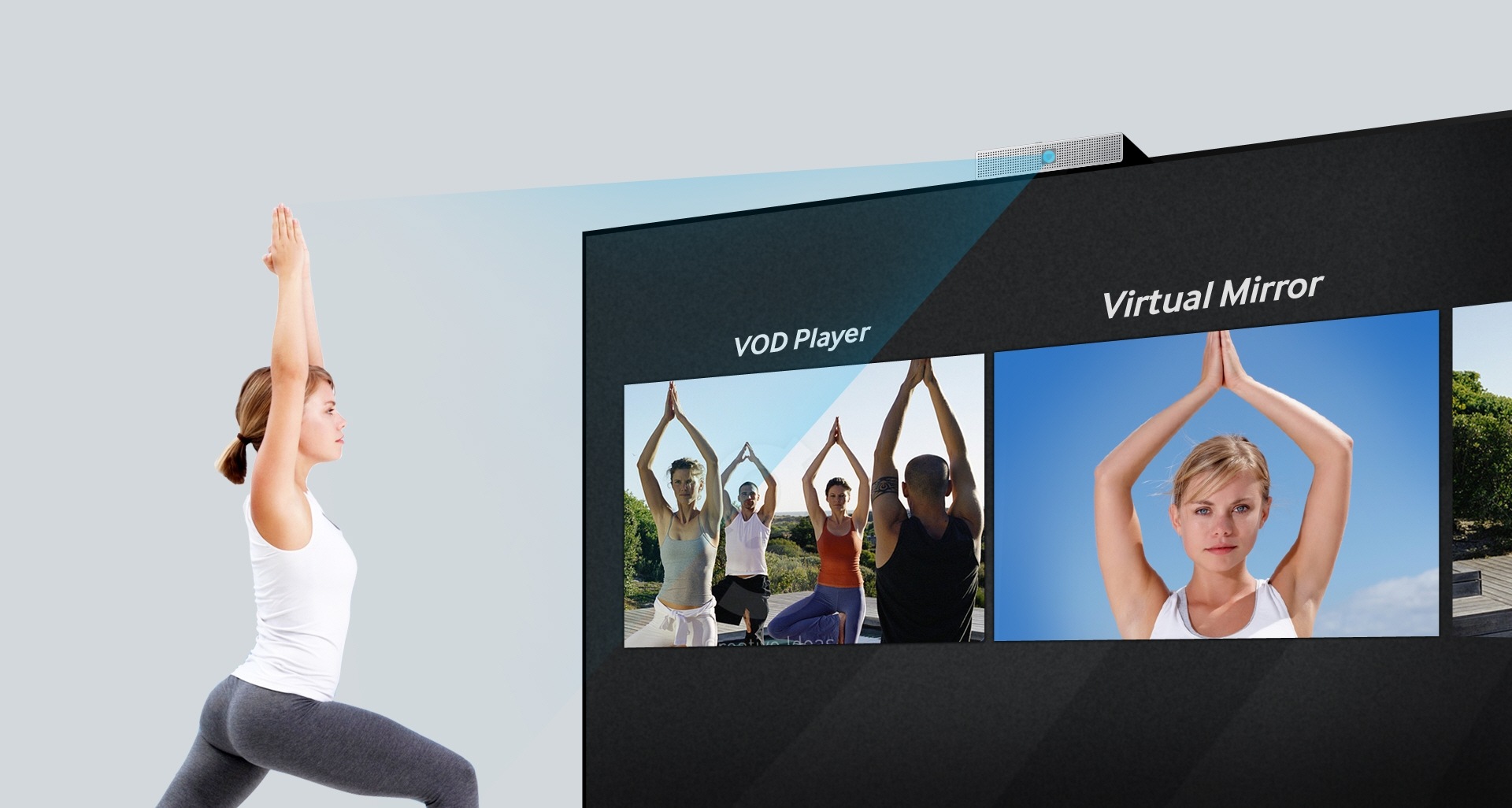 Encoding

FormatH.264 Base Line Profile
Maximum Resolution1920 x 1080
Maximum Frame Per Seconds30 fps
Lens

FocusFixed
Audio

Number of MIC2
MIC DirectivityUnidirectional
Mechanical

TiltingSupport
Method of Mounting on TVHanging with Dual hinge
Power

Voltage5 V 0.5 A
InterfaceUSB 2.0
Skype CertifiedYes
Compatibility

LED TV2015 S9 32"/40", JS9000 ~ JS8500, JU7500 ~ JU6000, J6500 ~ J6200 Series, J5500 Series (Excluding S9W 82") | 2014 HU8700 ~ HU6900, H8000 ~ H6300, H6270, H6200, H5600 ~ H5500, H4500
Dimension

Set (WxHxD)60 x 122 x 12 mm
Package (WxHxD)80 x 166 x 35 mm
Weight

Set104 g
Package148 ~ 198 g (depend on country)
Accessory

USB CableYes
User ManualYes
USB Cable ClipYes
More Information

| | |
| --- | --- |
| Brand | Samsung |
| Warranty | 7 Day Replacement |
| Shipping | Same Day From Lahore |