Redeem Gift of Buds 2 Pro + Cover

Galaxy Z Fold5
Unfold an immersive entertainment experience with a massive 7.6" screen.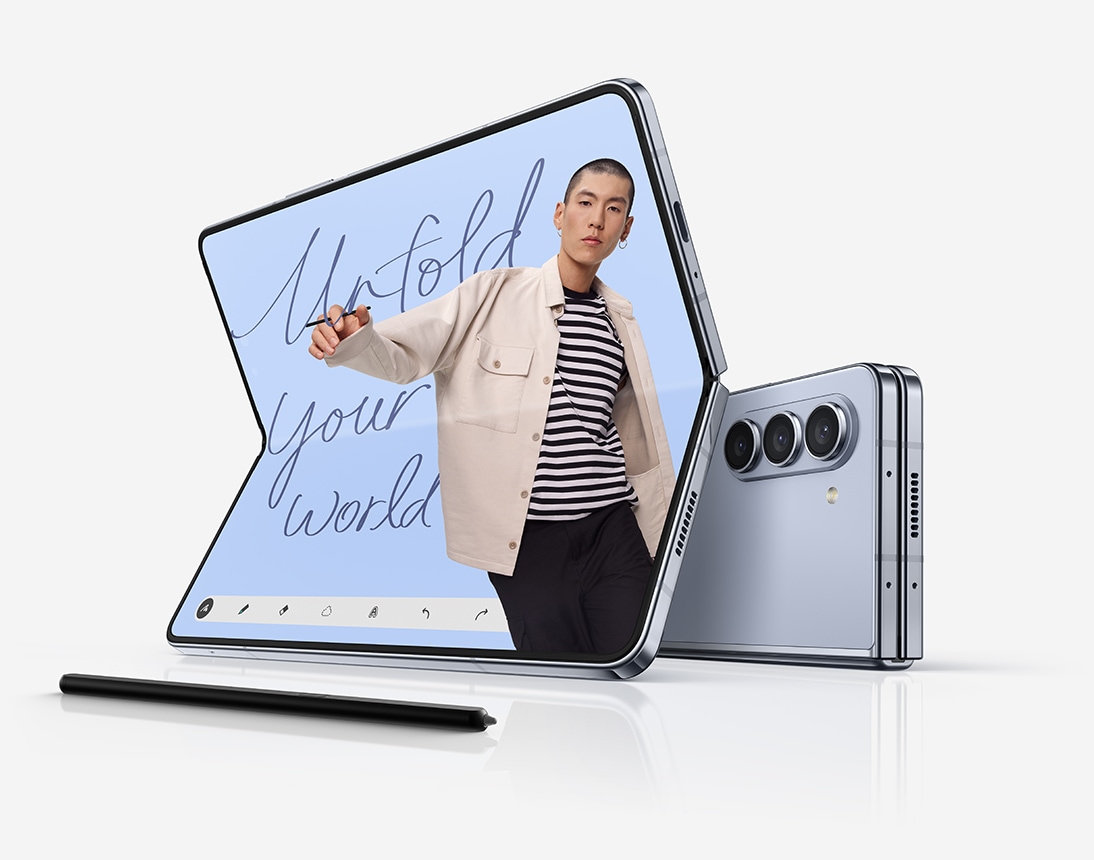 *S Pen (optional) sold separately, compatible only with main display. Requires S Pen Fold Edition or S Pen Pro.

DESIGN

DURABILITY

PERFORMANCE

CAMERA

ECOSYSTEM
Go big. Live large.
Unfold more with an expansive screen and immerse yourself in your favorite entertainment no matter where you are with Galaxy Z Fold5.
DESIGN


KING


BIG SCREEN


BATTERY


CAMERA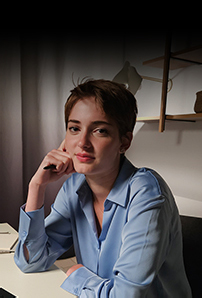 Take the big screen with you
Unfold a stunning, immersive 7.6" screen reimagined to bring you gaming like never before, cinematic viewing and improved productivity.


Light passes over the bottom frame of a folded Galaxy Z Fold5 hidden in darkness. Another glimmer reveals the edge of the bottom frame again as the device opens up, revealing the entire device seen from a fully opened Main Screen. A scene of a sport utility vehicle parked on a reflective surface that mirrors a starry night sky is shown on the display.

Keep it bright, even in sunlight
Enjoy a movie-going experience on the bright 7.6" Main Screen without direct sunlight ruining the view.7
Multiple apps.
One screen.
Multi-Window View takes your multitasking to the next level. Keep three windows open on one screen, so you can stream, shop, browse and play more.
Three windows are open on the Main Screen of Galaxy Z Fold5. Two are internet browsers and one is a text message chat. In one of the internet browsers is a photo of a cake. The cake is cropped from the picture and dragged and dropped in the text message chat.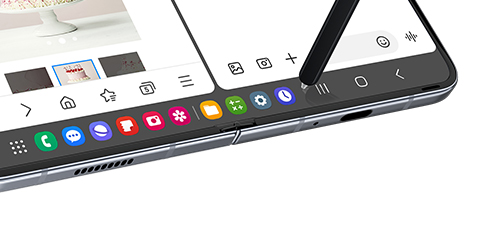 The task bar holds up to twelve apps at once so you can effortlessly swap between your favorites.11
Big screen,
meet slimmer S Pen.
Precision meets portability with S Pen capability on Galaxy Z Fold5. Write directly on the large screen and go from to-do to done.12 Plus, use Samsung Notes for a canvas that syncs across Galaxy devices.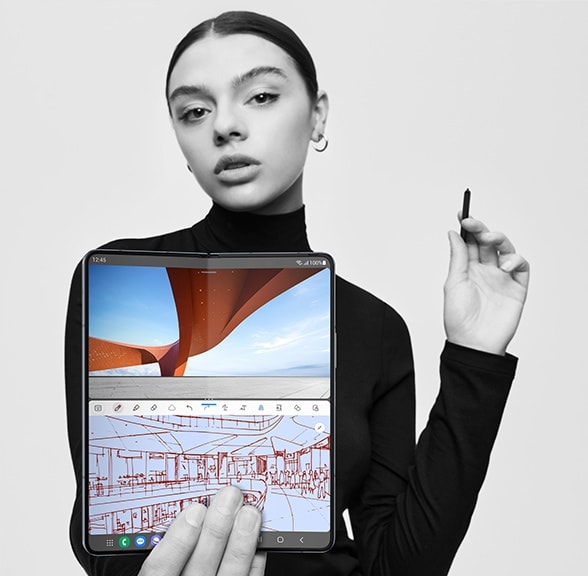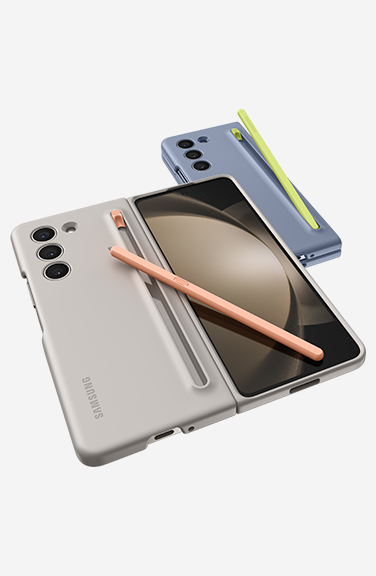 Slim S Pen Case
For on-the-go precision.
GoodNotes
Now with even more creative control.

Unfold massive productivity for work
Our slimmest, most durable Fold yet boasts a massive 7.6" screen† that opens to elevate productivity on the go. Multitask with Dual-App viewing and increased S Pen precision.
PRE-ORDER FOR BUSINESS
Slim, light, portable
We've trimmed down the design, so you can stay close to the things you love without sacrificing an ounce of power.
Fresh colors,
foldable form
With five shades to choose from, Galaxy Z Fold5 makes a statement and shows off your unique style,5 including exclusive colors found only on samsung.com.6
Exclusive online colors
Icy Blue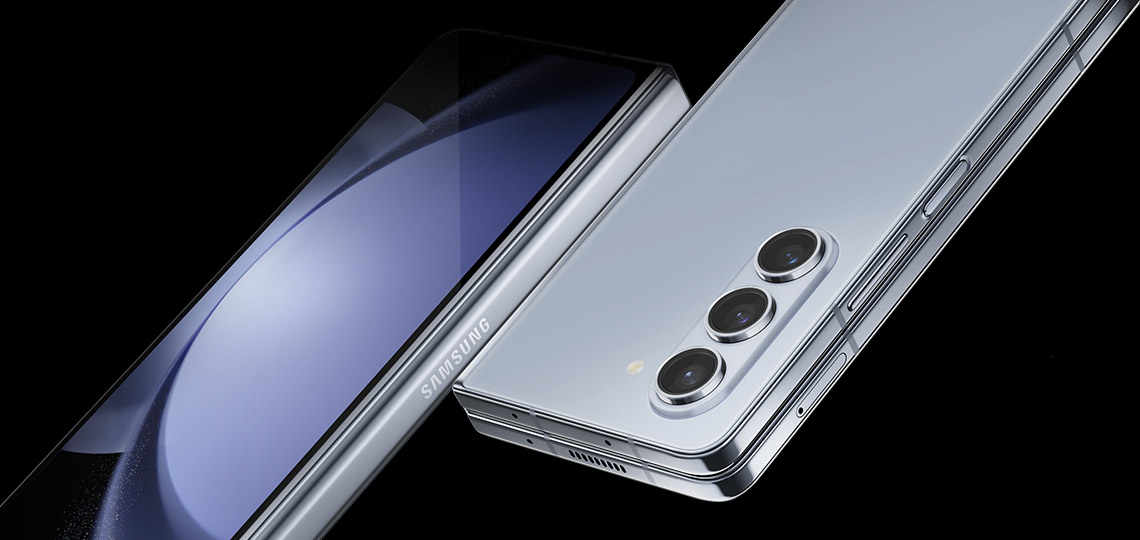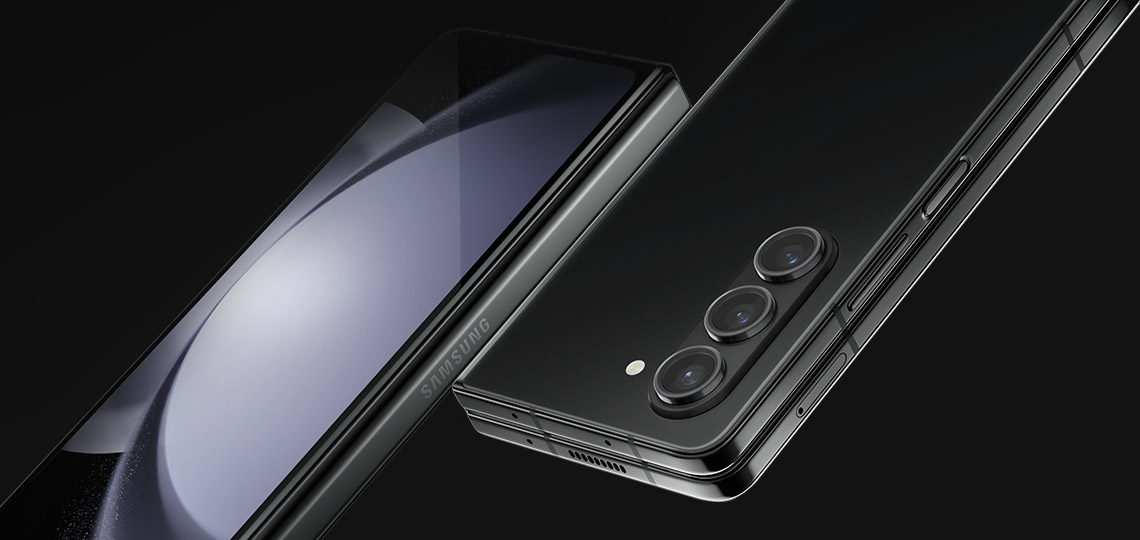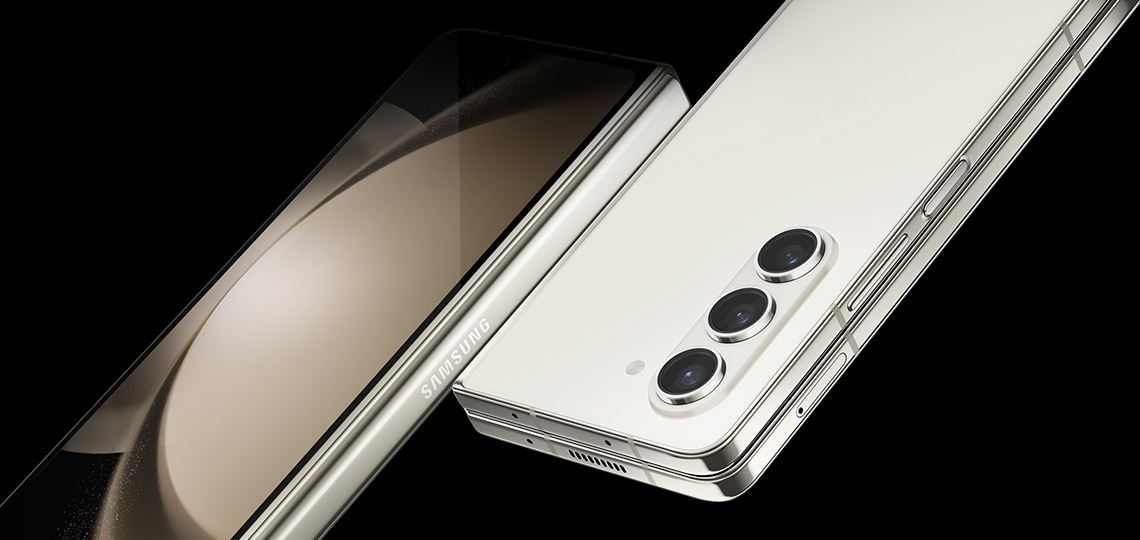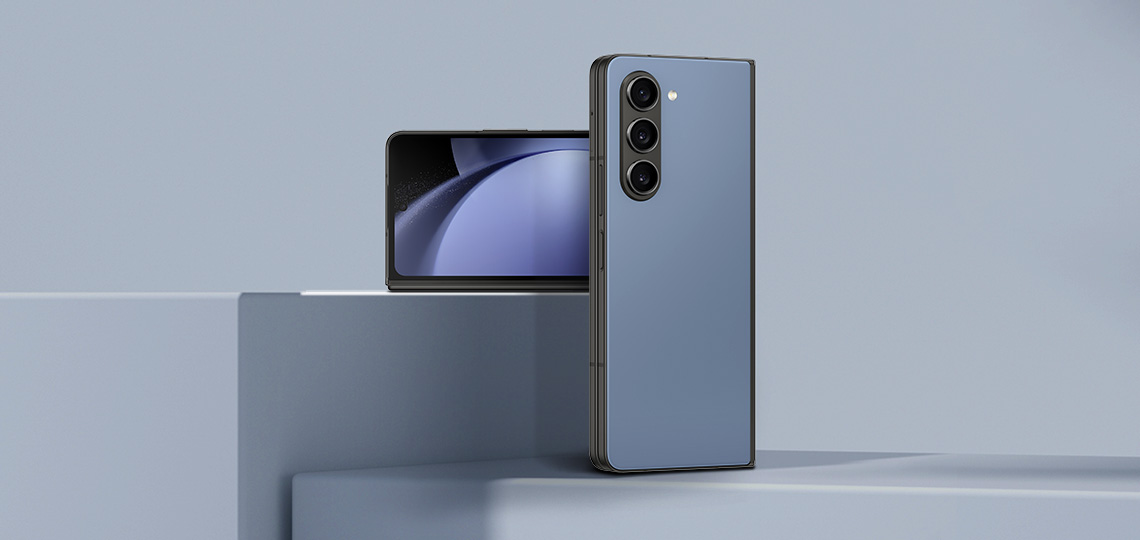 Our most compact Galaxy Z Fold yet
The laws of physics have nothing on this leveled-up design. Galaxy Z Fold5 lives up to its name by folding closed, making a massive screen implausibly pocketable.


Open it up, fold it shut or flex to the perfect angle. The redesigned Flex Hinge is a technical marvel that bends to your will.
13.4mmThickness
253gWeight
Galaxy Z Assurance Program
Cutting-edge innovation
5th generation foldable technology utilizing advanced, time-tested folding innovation.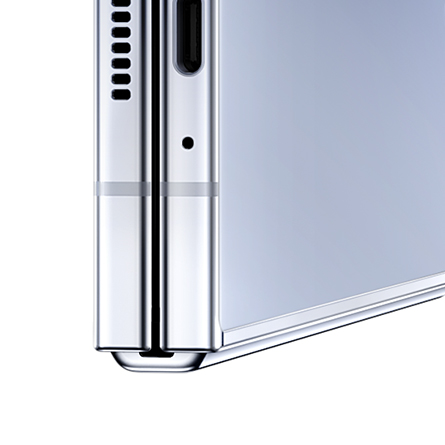 Built to withstand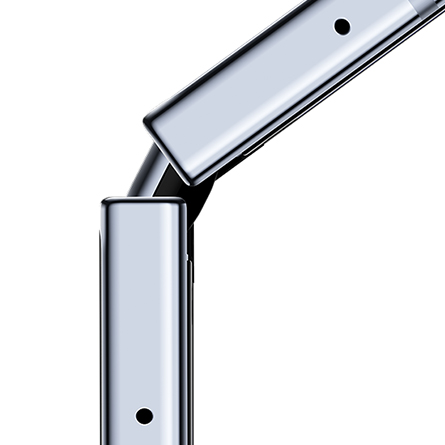 Out-of-the-box screen protection
Worry-free screen repair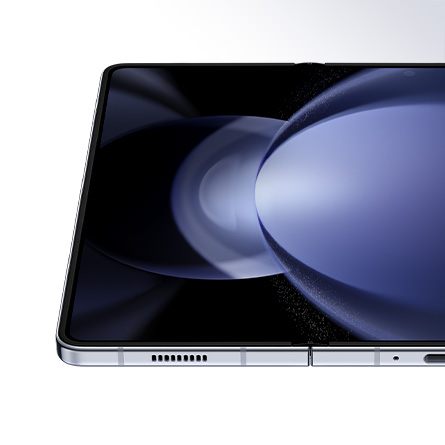 Pre-order now and get 30% off Samsung Care+.
Enjoy all day battery
Listen up to
73hrs
Watch up to
21hrs
With a long-lasting battery, you can give your phone all the attention it deserves Paired with an advanced processor, Galaxy Z Fold5 efficiently adjusts power usage to your habits and your needs.
Powerful gaming with Snapdragon® 8
Power your road to victory with the upgraded hardware and software of Snapdragon® 8 Gen 2 Mobile Platform for Galaxy. This high-performance processor fuels champion-level gameplay.



Gameplay of Genshin Impact. Movement is smooth and graphics are clear.
Standout cameras. Cover to cover.



Close up of the Galaxy Z Fold5 rear cameras, positioned horizontally.
10MP
3x Optical Zoom Telephoto Camera
50MP
Wide-angle Camera
12MP
Ultra Wide Camera
10MP
Cover Camera
4MP
Under Display Camera
Preview pics from
the cover screen
Whether behind the camera or in front of it, see your pose in the viewfinder with Dual Preview.15
*Image simulated for illustrative purposes. Actual UI may be different.
A tennis player poses for a photo on the tennis court. A teammate kneels in front to take the photo with the Rear Camera of an unfolded Galaxy Z Fold5. The photo taker observes the Main Screen while the photo subject observes the Cover Screen. Next, the photo preview is displayed on the Cover Screen as well as the Main Screen.
Up your content game,
no tripod needed


A florist clips the stems of a bundle of flowers. The natural movements, shades of colors and diverse textures of the flowers are captured with realistic quality and definition.
Captured by Galaxy Z Fold5 #withGalaxy
Take hands-free video with lush color and detail using Flex Mode. For even more clarity, Auto Frame Rate sets the optimal exposure so your video stays bright from start to finish.
Seamless screens, in your control
Multi Control lets you use a keyboard and mouse across devices including Galaxy Z Fold5 and Galaxy Tab S9, making it even easier to copy and paste or drag and drop.
Go to Galaxy Tab S9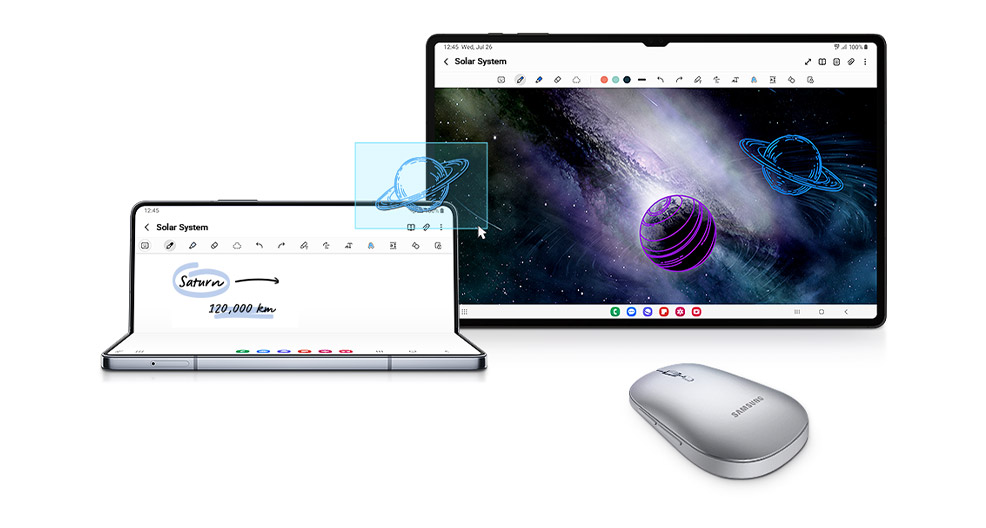 The connected power of Galaxy
Galaxy connected devices are perfect together, opening up new ways to seamlessly communicate, work, play and stay healthy.
Galaxy Watch6 Series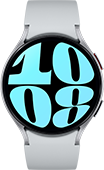 Galaxy Buds2 Pro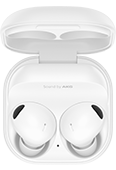 Switch or upgrade. It's easy.
Designed with the planet in mind
We're committed to creating a cleaner, more sustainable future by designing products with the planet in mind.24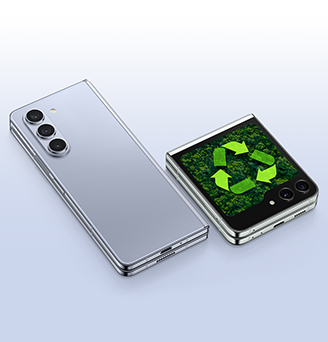 Smart Switch
Safe and secure. Take your photos, apps and messages with you when you switch to Galaxy
Trade in and save
Send us your old phone to get a new Galaxy Z Fold5 in your hands for less.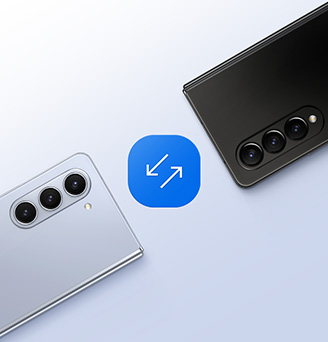 Your Privacy. Secured.
With Knox Vault, your private data is secured and protected. Passwords, biometrics and other security-critical information are protected by secure hardware isolated from others.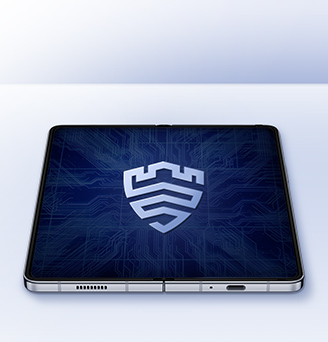 Storage
Store it all with 256GB, 512GB and 1TB options.
Get started with 6 months of Microsoft 365 Basic. You'll get 100 GB of cloud storage, plus ad-free, secure email and access to Microsoft support.28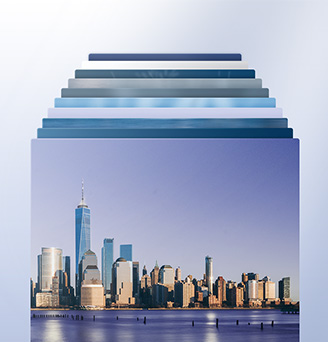 Do more with Galaxy accessories
*Accessories sold separately.
Join the flip side
GO TO GALAXY Z FLIP5
Life opens up with Galaxy
EXPLORE MORE
Galaxy Z Fold5 for business
Add Care+ Accidental Damage Plan and get a free case.*
| | |
| --- | --- |
| Brand | Samsung |
| Operating System | Android |
| Screen Size | 7.6" |
| Internal Memory | 512GB |
| RAM | 12GB |
| Main Camera Pixel | 50.0 |
| Dual Sim | Yes |
| Warranty | 1 Year Manufacturer |
| Shipping | Same Day From Lahore |
| Color | Black |