Perfect Black
Perfect Colour
α7 Intelligent Processor
AI TV
Cinema HDR
Dolby Atmos
QLED 8K TV is
TV like never before
8K delivers 4 times the resolution of 4K and 16 times the resolution of HD, transforming flat
images into a deeper, more lifelike experience. Samsung was the first to bring 8K to the
market and continues to give you the best TV experience you can get.

The 8K UHD logo shown on Samsung QLED 8K TV packaging indicates the product meets the Consumer Technology Association's (CTA) definition for 8K televisions.

Why QLED 8K?
Television history has been a remarkable march from standard definition to HD to 4K. And now Samsung is again leading the way as the first to bring 8K to the market. 8K delivers 4 times the resolution of 4K and 16 times the resolution of HD, which transforms flat images into a deeper, more lifelike experience.

Get lost in the details
8K Quantum HDR
Quantum HDR delivers unprecedented depth of picture clarity, illuminating the smallest details in every scene. The brightest brights and blackest of blacks make colors look and feel more vibrant and real —making if feel like you are there.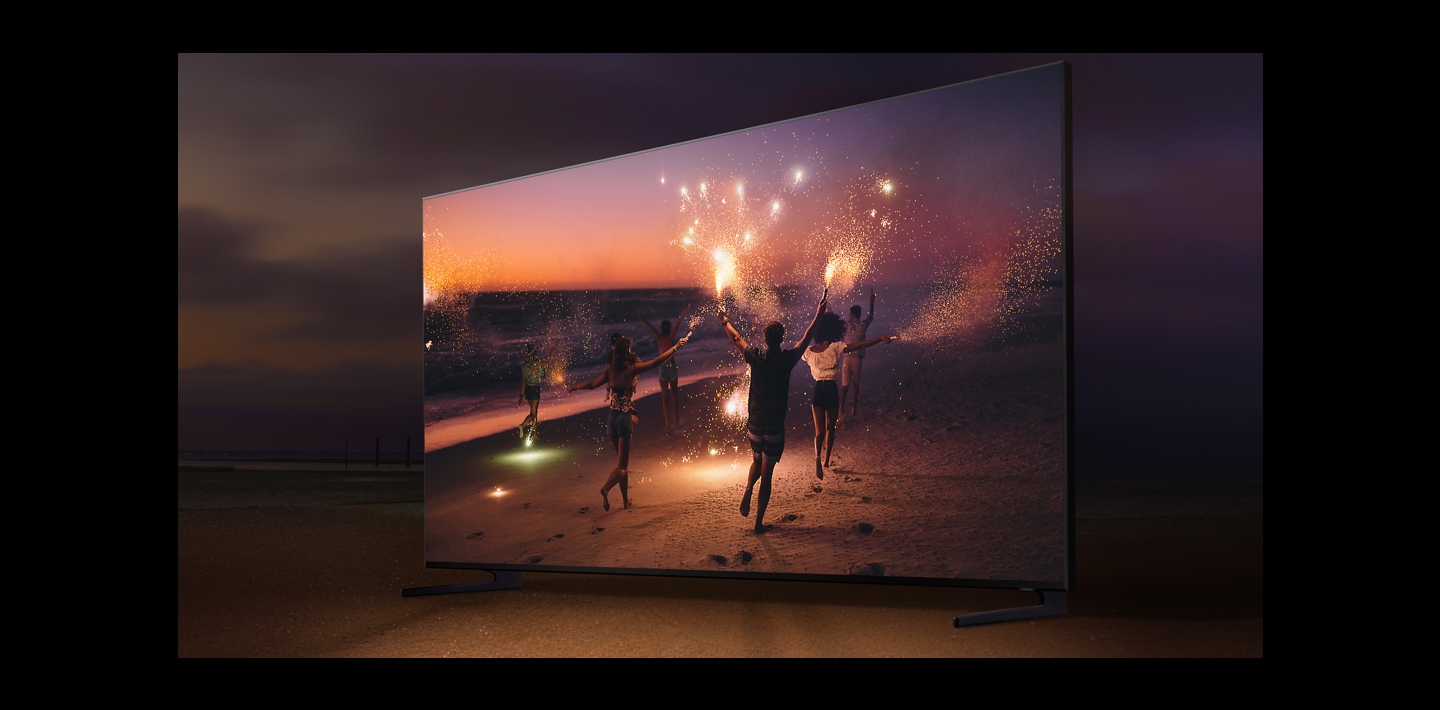 Picture more contrast
8K Direct Full Array
8K Direct Full Array technology lights up your picture in the most precise way, with LEDS directly behind the image that are points of light that individually turn on and off. This precise control improves contrast, reduces blooming and makes bright scenes really pop. All giving you the most precise picture possible.
Picture more contrast
"Samsung's best TV to date. It not only rends 8K UHD natively, it makes 4K UHD look better because of the high pixel density. The color, motion, and general processing are top notch."
Make the ordinary extraordinary
8K Quantum Processor
The 8K Quantum Processor is our best processor to hit the market and the only one that enables today's content to be remastered into stunning 8K detail. It also optimizes sound for each scene, adjusts brightness to the room's environment and with Universal Guide customizes content recommendations. All of which makes it our most powerful processor ever.
Turn what you love into 8K With machine learning and artificial intelligence, AI Upscaling¹ helps to transform your content into stunning 8K for improved details and sharpened definition. Enjoy clear and precise images with 8K-level picture quality.²
Optimal sounds for each scene AI Sound matches each scene with optimal sound quality. Hear a pin drop from your favorite movie or the crowd roar in the stands.
Elevate the ultimate TV experience with a soundbar Each Samsung soundbar has unique attributes like Immersive Sound Quality and Adaptive Sound that give you a deeper connection to the content you're enjoying.
TV tuned into you
Your QLED 8K TV can mirror all aspects of your life. Ambient Mode displays images that reflect your lifestyle. Universal Guide delivers nuanced content with simplicity. All making your QLED 8K TV tailored to you like no TV ever before.
Make your TV a work of art Ambient Mode lets you choose between any artwork you like to set the mood for a party, or even display the news headlines of the day so everyone is on the same page. It also has a setting to let it match the decor of your room.³ Toggle between all of these choices and more to suit your mood and needs.
Curate your content Universal Guide pulls in all of your favorite content from different streaming apps and serves them up in one easy-to-browse platform. Enjoy all the shows, movies and music you love. Stuck on what to watch? Universal Guide makes personalized recommendations based on what you love.
Designed to make a statement
Stunning from any angle, the boundless 360° design enables even more placement options with your TV, while the minimal bezels frame keeps your focus on the incredible picture.
More Information

| | |
| --- | --- |
| Brand | LG |
| Screen Size | 55" |
| Smart TV | Yes |
| 4K | Yes |
| Curved Tv | No |
| Warranty | 7 Day Replacement |
| Shipping | Same Day From Lahore |